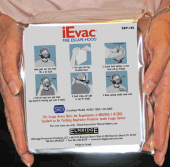 vacuum sealed in foil bag
Shelf life: 5 1/2 years
iEvac Emergency Escape Hood



The iEvac is a personal safety escape device for apartment building / Condo residents, High rise office building workers, hotel guests and emergency response personnel. At just under 1.5 lbs. - 680 grams you can easily store it under your bed or your car seat. Adds an extra level of safety when placed in your carry-on luggage during air travel.
Twin cartridges for easy breathing
High visibility reflective strips
Easy access - head harness adjusts outside the hood
One size fits all
Protects lungs, head, eyes and face
Unobstructed field of view
Can be used with eyeglasses, beards and long hair
Certified Model ANSI / ISEA 110-2003
Provides protection against:


Toxic Gases:

carbon monoxide, smoke, hydrogen cyanide, chlorine, ammonia, sulfur dioxide, hydrogen chloride, and more

Harmful Particulates: soot, fumes, aerosols, and others. Contains a HEPA flter that removes – more than 99.996% of sub-micron particles such as anthrax, smallpox, and radioactive particles

Life-Threatening Physical Hazards: flammability, radiant heat, and molten drip

User Information and Instruction Manual in 4 Languages:
English, Spanish, French and Portuguese. Product specifications